Daryl Sabara Surprised Meghan Trainor With Epic Dance At Their Wedding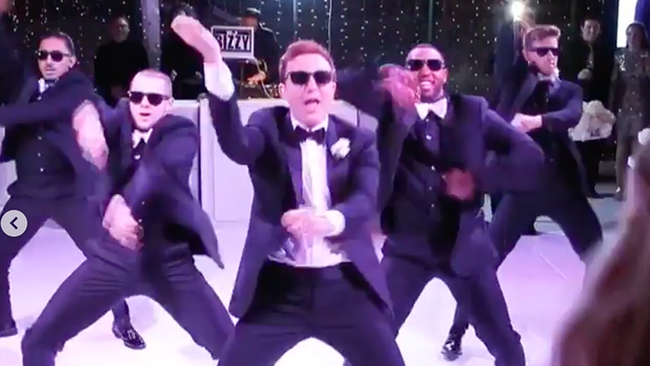 Daryl Sabara may just be the best husband ever. If you ask Meghan Trainor, she'd probably agree, especially after the epic surprise her now-husband pulled off during their wedding reception. So, what kind of surprise did Daryl pull off? The 26-year-old actor performed an epic song and dance number for Meghan and all their guests. Meghan's shocked face truly says it all.
Daryl and Meghan both shared clips from the dance number on Instagram. "Throwback to when [Charm La'Donna] helped me surprise my wife on our wedding day," Daryl captioned his post. Meanwhile, Meghan gave fans some backstory on how this special surprise came to be. "I told [Daryl] "I'm ALWAYS performing for you...why don't you give me a show" and he surprised me with this...best/sexiest hubby ever haha I love you so much Daryl."
In the videos, Darylperformed his epic choreographed number to his and Meghan's favorite love songs, including Chet Baker's "Someone to Watch Over Me," "Pop! Goes My Heart" from the delightful rom-com Music and Lyricsand "Suit & Tie" by Justin Timberlake. Talk about an amazing playlist!
Check out Daryl's surprise dance number here:
It's safe to say, Meghan and Daryl are definitely one of the cutest couples around. Congrats again, you guys!
Photo: Daryl Sabara