Halsey, Gwen Stefani, Imagine Dragons & More Read Mean Tweets On 'Kimmel'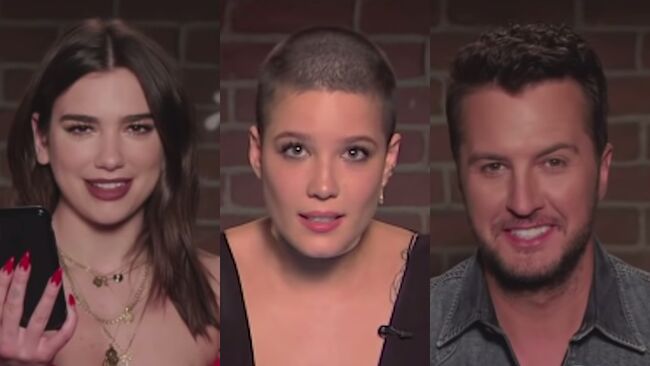 Celebrities braved yet another onslaught of foul tweets on the latest episode of Jimmel Kimmel Live!
During Tuesday night's (October 9) segment of "Mean Tweets," this time inspired by the American Music Awards, musicians like Luke Bryan, Gwen Stefani, Miley Cyrus, and others read the cold hard truths of what Twitter users really think of them.
"Gwen Stefani really is the worst thing to ever happen," the "Hollaback Girl" singer reads in a tweet, to which the pop star painfully replies, "Owie." The Chainsmokers recited a vicious yet hysterical tweet about a manager who fired his employee over his bad taste in music — their's specifically!
Another user took a literal low-blow at Tyga, tweeting, "TYGA PANTS TO TIGHT. #D***LESS." Halsey couldn't help but crack a smile at her mean tweet, which read, "I like some of halsey's songs but my god she sings like a goat being f***ed in the a**.
Dua Lipa was left speechless over this tweet mocking her name: "WTF is a dualipa [skeptical emoji] sounds like a sloppy b**w j." Pink took the most-backhanded compliment (?) with a cross-eyed grin as one user tweets, "P!nk is aging pretty well for a pig."
See how Imagine Dragons, The Strokes, G-Eazy, Nickelback, ScHoolboy Q, Elvis Costello and more took their mean tweets in the hilarious segment, below.
Photo: YouTube/Jimmy Kimmel Live!