Cardi B Dyed Her Hair Blue To Match Her New Lamborghini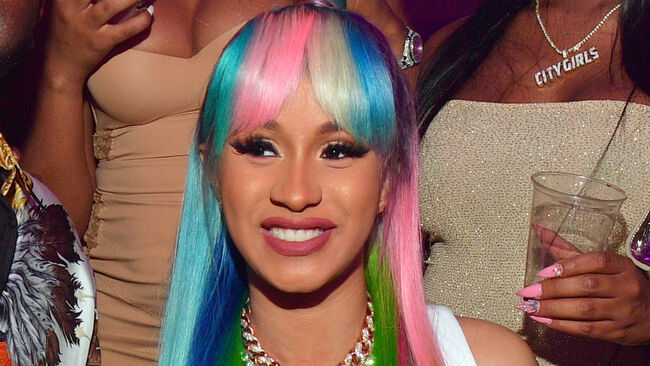 Nothing says "I got money to blow" quite like matching your hair to your new Lamborghini.
Cardi B's hairstylist, Cliff Vmir, recently revealed that the "I Like It" rapper dyed her hair blue to match her very expensive new whip.
"I think we work so well together because Cardi is crazy and daring," Cliff told Refinery29. "You never really know what she's going to do and say. She did just get gifted a blue Lamborghini and she was like, 'Cliff, I gotta get that color,' and she was so happy."
So, just how did he pull off the matching look?
"I mixed together four different dyes and we got exactly the color she wanted," Cliff explained.
Cardi also called upon Cliff's hair dying skills for one of her latest looks, a rainbow-colored wig.
"For the multi-color, I was so scared to do that because she sent me a picture of a girl with all this different color hair and I was like, 'Girl, I don't know how that's gonna look.' She was like, 'No, I know.' And so we did it and it turned out great," he said.
And according to Cardi's longtime hairstylist, if you have "$1,500 to $2,000" to blow, you too can get a Cardi-inspired hairdo!
Last month, Cardi took to Instagram to show off her and her husband Offset's new Lamborginis.
"Blessed & Gifted 💚💙 Official Lamb owners @offsetyrn #aventador #His&Hers #kultureparents 💚💚💙💙," she captioned a shot of their neon green and neon blue cars.