Troye Sivan Announces Ariana Grande Collab Called 'Dance To This'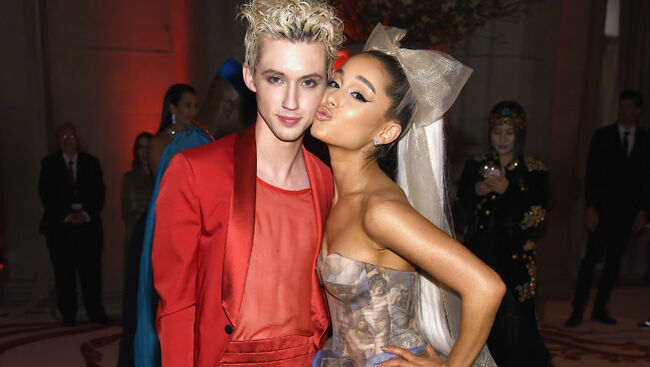 Not only does her collaboration with Nicki Minaj drop this week, but Ariana Grande also has a team-up with Troye Sivan scheduled for release on Wednesday (June 13). Late Sunday night, the Aussie singer/songwriter took to social media to announce the upcoming duet called "Dance to This" and reveal the accompanying single artwork.
Few details are known about the collab, but GQ previously described the number as a "mellow dance track" and we're expecting the dynamic between the two to be evident, considering they're rather close and all. "She's a really good friend," Troye previously said of Ari. "I wasn't sure there were going to be any features on the album because it felt so personal, but I had this one song and I thought this song really needs Ariana Grande on it. I hate asking people for things, but I plucked up the courage to ask – and I had it like two days later." After announcing the track, Grande replied to Sivan's tweet, writing, "i love u forever."
"Dance to This" follows the release of his previously-released "My My My," "The Good Side" and "Bloom," which are all set to be included on his sophomore LP, Bloom, which is due on August 31.
In our previous interview with the star, Sivan said that his time working with the Max Martin camp was not necessarily what he had envisioned. "I was expecting to arrive at their studio and them to have this formula that they just do it and then I leave and I'm a pop star all of a sudden," he admitted. "And it's so not like that. I think the secret if I can give away their secret, is that they are all incredibly nice and incredibly hardworking and incredibly talented. And, it's annoying, because I think people like to think that they've just got it all figured out. In most respects, they do. But, there's no magic trick that gives you a great pop song. They are just really inspiring writers to work with that I think bring the best out of a lot of people."