Watch Ariana Grande Perform Her New Single With Nintendo Labo Instruments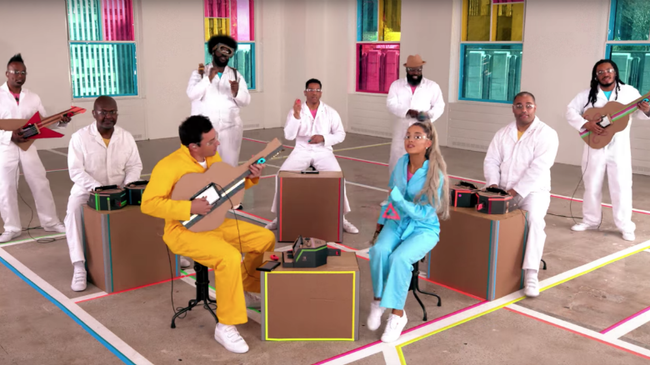 You have a brand-new rendition of Ariana Grande's "No Tears Left to Cry" to savor on, courtesy of the pop star's performance of the hit with Jimmy Fallon, The Roots, and Nintendo Labo instruments.
On Monday (May 14), The Tonight Show released the live rendition on their YouTube channel and it hears the collective performing the track with the help of a Nintendo Switch and instruments made from just cardboard. It's another push for the lead single from Grande's new album, Sweetener, which is due later this summer. The track is currently holding steady at the No. 10 position on the Billboard Hot 100. Expect even more from Grande on Sunday as she's scheduled to open the 2018 Billboard Music Awards live from the MGM Grand Garden Arena in Las Vegas at 8 PM ET / 5 PM PT on NBC.
"It's kind of about bringing light to a situation or to someone's life, or about somebody that brings light to your life, or sweetening the situation," Grande recently said of her new album, which will features production from Pharrell and Max Martin. Among the songs set to appear on the LP include "R.E.M.," "The Light Is Coming," "God Is a Woman" and an intro called "Raindrops." Interestingly enough, the opener samples Four Seasons' 1964 track, "An Angel Cried," which was co-written by Grande's grandfather's best friend.
Photo: YouTube/The Tonight Show Starring Jimmy Fallon