Pink Stops Her Show To Watch This 12-Year-Old Nail A Cover Of 'Perfect'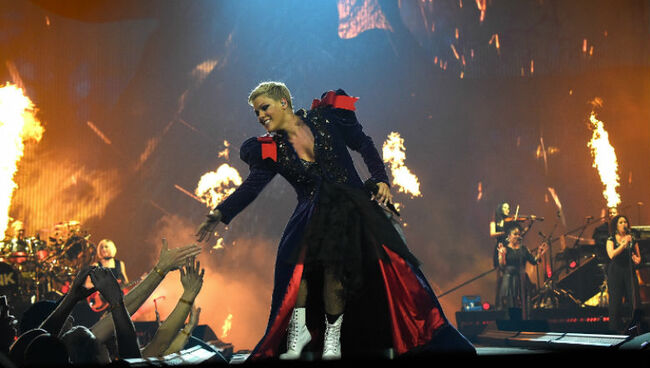 PINK is the kind of pop star that will stop her show to give the crowd an opportunity to get some shine, and that's exactly what happened when the entertainer took her "Beautiful Trama Tour" to Vancouver on Saturday (May 12).
It all began with a social media campaign (and the viral hashtag #VicAndPink) that led to 12-year-old Victoria Anthony's a capella performance of "Perfect." Are you who I read about on the news? Are you the singer? Do you want to come sing something?" she asked the young fan, before she handed over the mic and had the audience roaring with applause as Anthony went through the 2010 smash. By the end of the bit, the pop star was floored, telling the almost-teen that she didn't even want to sing anymore. "You're amazing. Thank you," she added. Watch the incident unfold in the footage below!
In related news, PINK recently told Redbook magazine that her touring days will be over when the schedule stops being accommodating to her role as a mother to her daughter, Willow, 6½, and son Jameson, 16-months-old. "When touring stops working for the kids, if they decide they just want to be home and have a normal life, whatever that means, I'll stop because they are by far the priority," she told the magazine in the latest issue. "I think it's cool that they get to see their mom be the boss and work really freaking hard to realize a dream. I'd say it's 95 percent positive."