5 Seconds of Summer Introduce Fans to New Music at Irving Plaza Show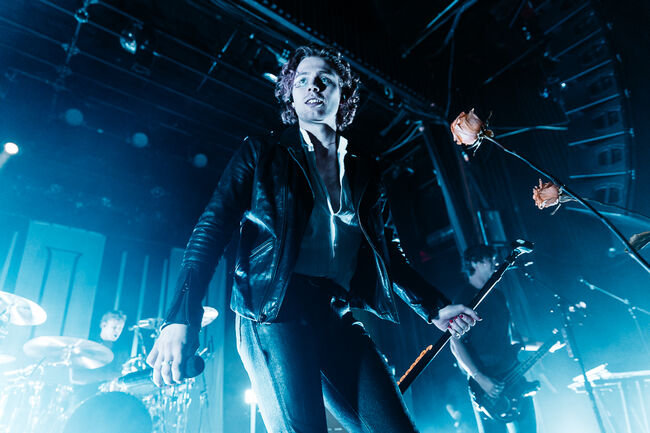 5 Seconds of Summer took the stage at Irving Plaza on Thursday night for the New York City stop on their Meet You There tour. It's been a while since fans of the Australian band, consisting of Luke Hemmings (21), Calum Hood (22), Michael Clifford (22), and Ashton Irwin (23), have seen them play a gig live. After releasing two albums back to back and touring the world with One Direction for a few years, 5SOS took a step back from the spotlight. They've been laying low in Los Angeles since 2015 working on their third studio album Youngblood. With a June 22 release right around the corner, 5SOS is back on the promotional grind after a nice, long hiatus.
It must be a scary thing for a young band to consciously remove themselves from the public eye at the height of their success. Historically when a boy band announces they're taking a break, fans usually know that's code for a break up. (Cough, One Direction, cough). But fans of 5SOS, of course, will be first to tell you that they're actually not a boy band. They're a band. Full stop. Taking a long break - or taking "time to be a conscious being," as Irwin described it in an interview with Z100 – was exactly the right move for a band looking to evolve.
And evolve they did. That much was evident during their show at Irving Plaza. It's at first obvious in their appearance. They're older, of course, no longer looking like the fresh-faced teenagers that started out all those years ago. Clifford used to don an array of wild colored hairstyles, but is now opting for a more toned down, grown out blonde hairstyle. Hemming's cropped hair is now long, resting just above his shoulders and tucked behind his ears. He's removed his lip ring, as well. Their look as a band is more polished; they hit the stage in coordinated black outfits, but they're each dressed differently enough that it just might have been a happy coincidence. Maybe it was.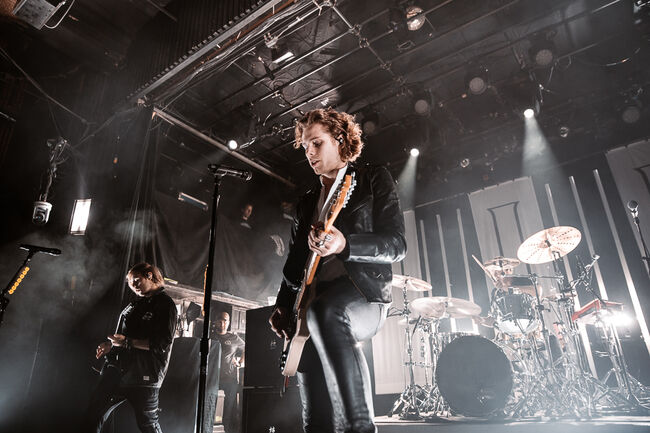 While it might seem like a strange choice to go from playing arena tours to a venue with a max capacity of 1,000 patrons, the appeal of the intimate venue was clear from the moment Hemmings, Clifford, Irwin, and Hood walked out on stage. They really did just walk out, too. There was no special entrance, no popping up from secret doors beneath the stage. Just the guys walking out to greet their fans. This tour feels like a reunion, like 5SOS is reconnecting with the people who have patiently waited for them to come back.
In a venue like Irving Plaza, it's entirely possible for fans to make eye contact with their favorite member of the group or for them to read the sign you're holding up. In fact, that did happen at the 5SOS show. Irwin stopped the show in the middle of their set because he caught sight of a sign being held up by a fan in the front row. It was her twenty-first birthday and she had a few simple requests: she wanted to take shots and she wanted Hood to write out her future tattoo, so, it could be permanently inked into her skin in his handwriting. Irwin pulled her up on stage, ordered two shots, linked arms with the fan and knocked 'em back. Hood then gamely wrote her tattoo. It was the stuff of fan fiction come to life.
They started out the show with the song that really put them on the map: "She Looks So Perfect." In an interview with Rolling Stone, it was documented that Irwin and Clifford didn't quite see eye-to-eye with this track. Clifford wasn't particularly a fan, but Irwin knew it would be the song that broke them into the mainstream. Irwin was right. The time away from touring – and constantly performing the same few songs over and over again – seems to have revitalized 5SOS in an important way. Despite promoting a new album, which they consider to be the best work of their career, they didn't seem to mind playing their old hits one bit. They seemed to really enjoy it.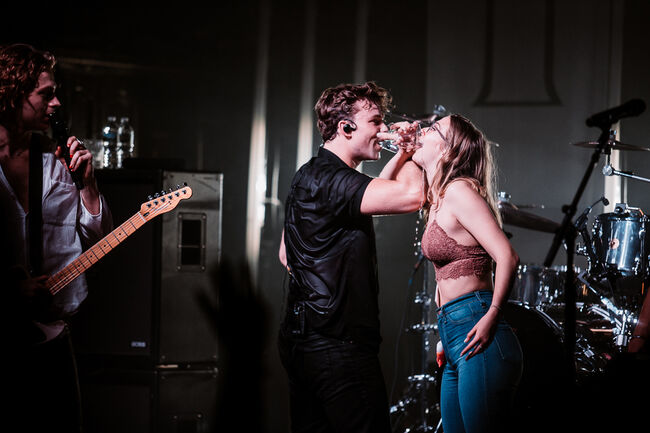 In addition to "She Looks So Perfect," 5SOS played a number of other songs from their previous albums, including "Jet Black Heart," "She's Kinda Hot," and "Amnesia." Some of the guys took a short water break before getting into "Amnesia," but the music was still playing. The crowd took it upon themselves to sing the first verse and chorus and then the band picked up from where they left off on verse two. It was a nice moment between a band and their fans; a reminder that for the brief period of time that they're in the same place, singing the same songs it's like they're speaking the same language. There's an unspoken understanding between the people who make the music and the ones who listen to it.
They played a few new tracks, as well, including "Youngblood" and "Want You Back." While the truly special moments of the night came during the old songs, the new songs have the same energy that make you want to scream the words at the top of your lungs while you drive around with the windows down. Just because the fans don't know the words yet doesn't mean they won't soon. Their attention was rapt, phones held up high to record, as 5SOS introduced them to next era of their music.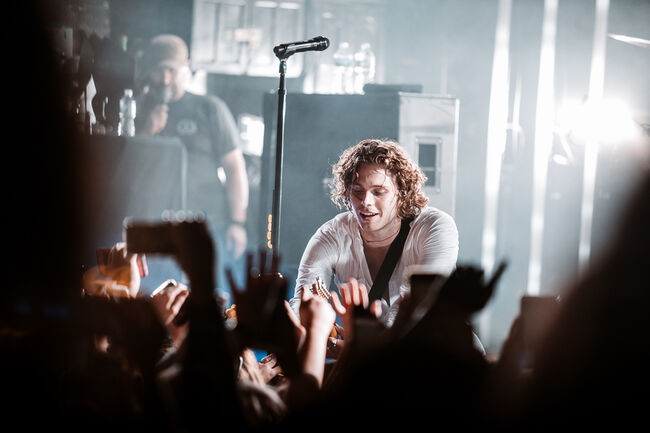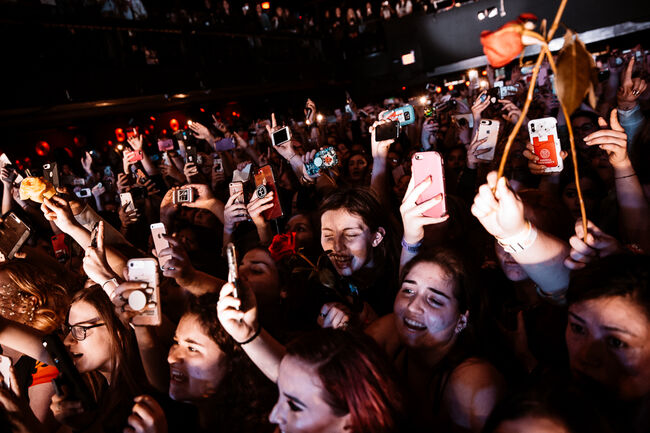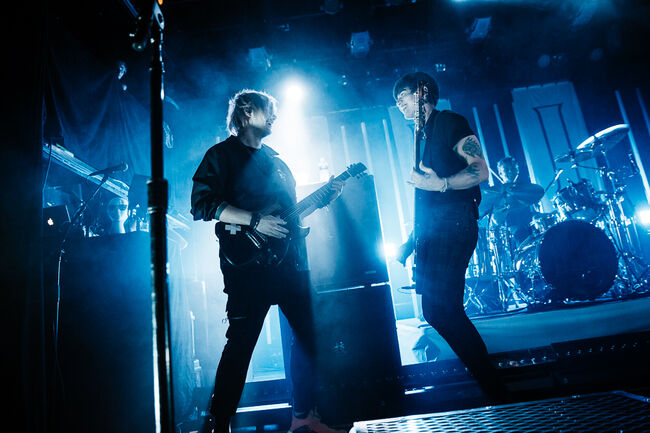 Photos: Rachel Kaplan for iHeartRadio